Saturday Dog Walking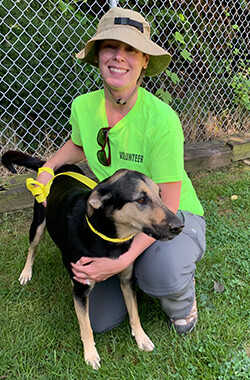 Do you want to help make a difference in the life of a shelter dog? Then volunteer to become a Saturday Dog Walker at the New Albany Shelter! You will give the dogs some quality one-on-on time while you get them out of their kennels for some exercise and fun play time. You can even help work on their training to make them even more adoptable!
We can't pay you but you get unlimited puppy kisses! We walk on and around the grounds of the shelter from 9:00am - 11:00am and 12:00pm - 2:00pm on Saturdays so you can pick which shift works best for you. We make the schedule a few weeks in advance, so you tell us the dates you can walk and we get you scheduled. We walk rain or shine!
To begin volunteering you need to attend volunteer orientation which is held the last Thursday of the month, 6:00pm at the New Albany Animal Shelter (215 W. Market St, New Albany, IN, 47150). It lasts approximately an hour, and you will receive an overview of FCARL/Shelter and some paperwork to complete. Once we have your completed paperwork, we will then be in touch to arrange training.
Volunteers must be 16 or over and you are not able to bring minors with you when you volunteer. We are unable to provide service hours for this volunteer opportunity.
Volunteer orientation is currently suspended due to COVID-19, please contact us for more information.